Barossa Icons Full Day Tour


---
Barossa Daimler Tours are sorry to advise that due to a sudden health crisis, John and Libby are having to cease trading for the foreseeable future. Hence, we are currently not taking any bookings for tours.
---
Tour Includes;
Henschke Winery 'Hill of Grace Experience'
Penfolds Winery 'A Taste of Grange'
Seppeltsfield Winery 'Centenary Tour'
2 course lunch with wine at Vintners Restaurant
Cheese tasting at Barossa Valley Cheese Company
Afternoon tea at Maggie Beers Farm Shop
Tour in a classic and rare, air-conditioned 1962 Daimler
Minimum 2 - Maximum 6 persons
9am pickup and return to Barossa accommodation at 5pm
Exclusive touring with John Baldwin
*Adelaide pickups welcome (at added cost - see details below)
Available Monday to Friday
Available Saturday on request
Not available on Sundays or Public Holidays


Rate - $AUD990-00 per person
Barossa Daimler Tours offer this day of outstanding and iconic experiences which are not offered anywhere else in the world.
To begin your day, you'll be collected in a classic and rare 1962 Daimler, which was brought to Australia for the royal tours in the sixties.
The Henschke 'Hill of Grace Experience' delves into history and incorporates a trip to the vines, where you can stand amid these 155-year-old gnarled beauties. Tastings include Henschke's most sought-after wines: Mount Edelstone, Cyril Henschke, Hill of Roses and the pinnacle, the elegant and illustrious 'Hill of Grace'.
Visit Penfolds, Barossa Valley Winery and discover the philosphy and spirit behind Australia's greatest wine. Penfolds 'Taste of Grange' involves a private sitting with a Penfolds educator and includes tasting one luxury white, and five reds (which may include St Henri, Magill, RWT, 707) and the current Grange on offer.
A Seppeltsfield 'Centenary Tour' indulges the history and romance of Seppeltsfield, a living, national treasure dating back to 1851. Taste wines from the Paramount Range and then take the rare opportunity to draw and taste fortified wine from the barrel of your birth year. Your final indulgence is the unforgettable, 'once in a lifetime' liquid history experience of tasting a 100-year-old Para Liqueur Tawny. Seppletsfield is home of the world's only continuous collection of fortified wines dating back to 1878.
Rate valid until 31st March 2021
*Adelaide pickups - Extra $AUD300.00 per car, for a return transfer (on tour day). Please note that the transfers are in a modern vehicle, and on arrival in The Barossa, meet with John and transfer to the 1962 Daimler for the tour. Adelaide pickup at 7.45am and drop off at 6pm.
Alternatively, guests can choose to catch a train from the Adelaide Train Station on North Terrace and travel to Gawler to be picked up. We advise the trains (including the return trip) to catch to suit the tour timetable.
Rates are in Australian dollars (AUD) and are GST inclusive.
Please note that if the temperature is over 37 degrees Celsius (100F) for the day of the tour, the Daimler may need to be replaced with our modern Mercedes and appropriate refunds are applied. This does not happen often, and on this occassion, we try our best to start with the Daimler for the cooler morning part of the tour and then transfer to the modern Mercedes in the afternoon.
Cancellation Policy
Should any tour be cancelled by the client more than 30 days prior to the date of the tour, a full refund will be applied.
Tours cancelled between 8 and 29 days, prior to the tour date, a 50% refund will apply, or the option to postpone the tour and reschedule at a later date.
Tours cancelled within 7 days are not refundable, however if a tour is cancelled due to ill health or flight problems, including Coronavirus, the tour can be postponed and rescheduled at a later date.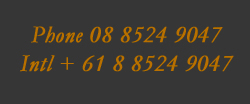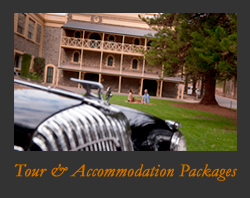 Contact Information
Barossa Daimler Tours
503 Rosedale Road
Rosedale, 5350
Barossa Valley
South Australia
Aust: 08 85 249047
Intl: +(61) 8 85 249047