Guestbook Comments
Here is what some of our guests have to say after spending a day with John...
Hi Libby & John, We are home again now and just wanted to say thank you to you both again for the most wonderful tour on Saturday. Thank you Libby for your warm & efficient communication and organisation of the tour and thank you to John who "blew our minds" literally with the amazing amount of information he had to offer about all aspects of the Barossa. We were delighted and enlightened by the whole wonderful experience. It was a perfect day and as our friend Peter said afternwards, any other tour would pale in comparison. So thanks again wonderful people for providing such a truly amazing and wonderful experience. We will remember it forever..... Such a lovely email to receive on 29/5/13 from Dianne and Leon after their surprise tour for friend Peter from Perth.

Dear John, Our time with you was so wonderful and most certainly forever memorable. Anthony was over the moon with the day and the royal style in which you treated us both. I have never really been able to surprise my husband or give him a gift that left him speechless in the 20 years we have been together, this did the trick. And to see the all day smiles on his face was just so worth the trip to Adelaide and the Barossa. Anthony has spent all week re-telling the day over and over to all his friends and clients. You are truly a gem offering such a unique, professional and personal service and the Barossa is lucky to have you. Thank you again from the bottom of my hear.... What a thrill to recieve this message by email on 12/5/13 from Learne of Sydney after organising a surprise tour for her husband

"Good morning Libby, Just a few lines in regarding our tour yesterday...THANK YOU! THANK YOU!!...The moment Keri & I saw the Daimler coming down the drive...instantly sent us into a spin...the icing on the cake though...need i tell you?...John!...his love & passion for the Barossa district is quite infectious...it's clearly seen he's held in high regard within the industry...it's being in his presence whilst entering a winery...the warm greetings by his peers ...gives off the feeling "I'm in safe hands here"...his attention to detail regarding each variety of wine is staggering! On behalf of my wife Keri & I we thank you both for a great day of touring the beautiful Barossa Valley... Keri & Michael Hart (Australia) 26/1/12 sent to Libby by email.

"Dale and I want to thank you for a great wine tour. Flawless is my description in one word. John had us figured out from the start go and selected the wineries which were intriguing, new, brash, entertaining and most of all where we learned a lot about your great Australian wines. It was such a pleasure to know you and you can be sure we shall recommend your services to any and all our friends that travel to Australia." Gordon & Dale Viberg, (Colorado USA) 2/1/12

"John, we cannot thank you enough for a fantastic day. Your knowledge of the region is unsurpassed and your hospitality unrivalled. The car, the wine and the friendship by far exceeded our expectations."
Matt & Angelique Sanders, (Sydney).
"Three of life's best pleasures - good wine, good food and good company! A superbly impressive day. What a day, what a way to travel! Highly recommended for all."
Mike & Megan Wundenberg, (Indonesia).
"We couldn't hope for a better way to visit the great vineyards of the Barossa Valley and for a better host! We sincerely hope to be back in the near future. It was the best way to start the New Year. Thank you very much."
Allain Gaugette, (Canada).
"What a fantastic way to tour the Barossa for 'a weekend in my hometown'. John, your hospitality was magnificent, the Daimler gorgeous, and the food and wine to die for. Thanks again! Will recommend to everyone!!"
Paul, Nardine, Matt, Paul & Alissa, (Australia).

"Cheers John. Just the driver/tour guide, we felt we knew you as a pal after about 5 minutes. The only way to see the Barossa and it's just a shame you had to take us back. I've travelled the world and this is up there with the best of the best. A pleasure."
Derek Lambie, Scottish Sunday Express Editor, (Scotland).
"We had a magical day. Great countryside, great wine, great food, and most of all fantastic company. Thanks again John."
Jeff & Mary Schofield, (Yorkshire).
"They say that when travelling it's all about who you travel with. But having a guide who is informative, interesting, funny and great company to boot is just great! Thanks for a fabulous day. Our friends will be along shortly."
Jo & James Di Bartolo, (NSW).
"The Daimler way is the perfect experience of the Barossa Valley. Thank you John, for your thoughtfulness and great information."
Sumitra Senepaty, (Delhi, India).

"What a seriously wonderful way to see the Barossa. Your knowledge, insight and understanding of the area (and us) made this an event to remember. John, thank you and we will be back, as will our friends."
Di & David King, (Malvern).

"A wonderful day, great selection of vineyards, the car was great, but John was the best. Many thanks for a wonderful day! An introduction to Aussie wines that we could not have gotten elsewhere."
Mike & Lauren Marcellin, (Fairfax, Virginia, USA).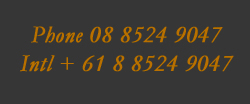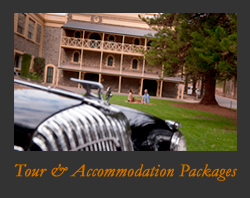 Contact Information
Barossa Daimler Tours
503 Rosedale Road
Rosedale, 5350
Barossa Valley
South Australia
Aust: 08 85 249047
Intl: +(61) 8 85 249047